My favorite children's CD is Jack Johnson's Sing-A-Longs and Lullabies. I like it because each song's message is meant for kids, but the music is just as friendly to adult ears (this is not always the case!).
Rachel Rambach, MM, MT-BC
Springfield, IL

I am a huge fan of Ralph's World! This is adult-friendly kid's music that lends itself well to pretend play. I use this for work AND listen to it at home with my 3-year-old. Ralph also puts on a great concert if you have the chance to see him live.
Dena Register, Ph.D., MT-BC
Lawrence, KS

While preparing recorded music for a pediatric healthcare project in Switzerland, I discovered Joely and Oliver (www.joely-und-oliver.de). "Bis ans Ende der Welt" includes the most beautiful and meaningful German children's songs that are upbeat and inspiring for children and parents.
Petra Kern, Ph.D., MT-DMtG, MT-BC, MTA, NICU-MT
Santa Barbara, CA

Robin Spielberg's Beautiful Dreamer is my favorite CD to use with very little children. It sets the mood in such a gentle way…no words, just lovely music by a delightful performer and mom who also is a real advocate for music therapy. She "gets it."
Marcia Humpal, M.Ed., MT-BC
Olmsted Falls, OH

Right at this moment my favorite children's CD is Songs for Stories by Beth McLaughlin, someone whom I am proud to call a colleague and friend. I have used this CD with children of a variety of ages and levels of functioning, for multiple reasons—to enhance listening and recall, reading comprehension, and creative movement improvisation; to reinforce completion of less preferred tasks, and for just plain fun!

Ronna Kaplan, MA, MT-BC, NMT
Cleveland, OH

For the last year, this Smithsonian CD has accompanied me in the car, inspired several songs and become a favorite of my grandchildren and children. It's clean simplicity, and what I would call a musical honesty, is very appealing to all. The many colors of musical bird songs address a wide range of emotional responses, with many changes in tempo and tonality and cultural influence. Thank you Elizabeth Mitchell and family for this delightful C.D.!
Dorothy S. Denton, BM, MT-BC
Mansfield, OH

Room in this World by Song Sisters (singing duo Christine Barton, MT-BC, and Julie Austin) is my favorite CD. Songs that I find especially amenable to live music therapy interventions by the MT are "I Like to Sing," "P-I-Z-Z-A," and " The Yucky Song," among others.
Angela Snell, MT-BC
Monroe, MI

Catch That Train by Dan Zanes and Friends is my favorite. Dan has many awesome songs that can be adapted for music therapy. I recommend all of his albums actually.
Amy Robertson, M.M., MT-BC, NICU-MT
Orlando, FL

We like The Wiggles, with their short, catchy ideas and clearly presented concepts. Each musician has a distinct character and role with which children can identify. The pacing is appropriate for children, and the lyrics are easily understood. The music is contemporary but not overpowering.

Nina Guerrero, M.A, MT-BC, LCAT, NRMT and Alan Turry, D.A., MT-BC, LCAT, NRMT
New York, NY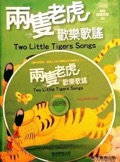 I enjoy Two Little Tigers Songs, a great mix of 40 Taiwanese favorite children's songs and colorful illustrations capturing the child's imagination.
Fu-Nien Hsieh, MA, MM, MT-BC
Taipei, Taiwan

My favorite children's CD is called Doodle Music for Drawing and Dancing. It is a collection of short pieces designed to encourage children to actively listen to music, draw what they hear, then move to what they drew and heard.
Karen Davidson, BS Education
Guilford, CT