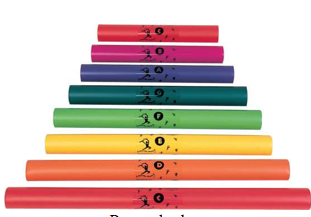 Boomwhackers are easy and fun to play. They can be used to enhance social skills in group music-making activities, to improve motor function, and to address academic skills such as color identification.
Scott Sams, MTS
Louisville, KY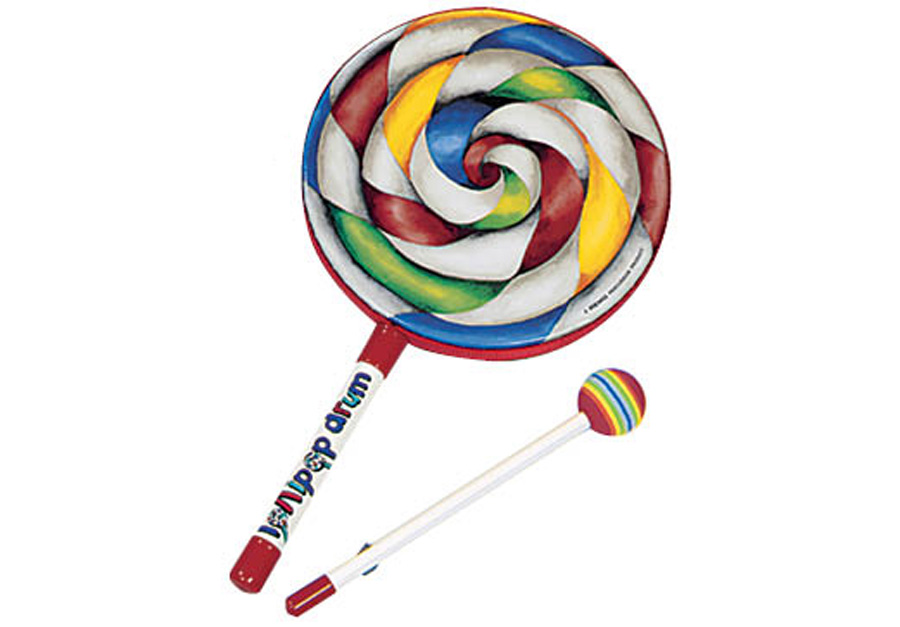 Lollipop Drums
I prefer using lollipop drums because children love their candy look! I find that children are typically more attracted to these drums than to plain paddle drums. They also have cute rainbow mallets to match!
Bailey Carter, MT-BC
Louisville, KY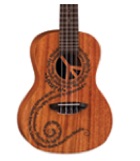 Ukulele
When I go to my clinical practicum sites, I usually bring a large box filled with many different instruments. When asked to choose what they like, the younger children are always drawn to the ukulele. It is small enough that they can play it easily, and it has a wonderful timbre that is uplifting, warm, and inviting. The little ones love to rock on the "me-size guitar"!
Talia Girton, MT Student
Louisville, Kentucky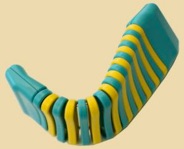 Clatterpillar
I really like the Clatterpillar! Children can create a wave of sound when they flip their wrists. The Clatterpillar makes an amazing sound as each colorful segment "clacks" against the next. This is a durable instrument that stands up to no end of exploration by young children. I like the Clatterpillar especially for encouraging meeting at the midline and opposite, bilateral movement—one hand goes down while the other goes up for coordinated rhythmic exploration.
Carol Ann Blank, LCAT, LPC, MMT, MT-BC
Princeton, New Jersey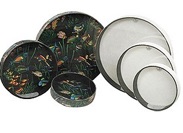 Ocean Drum
The ocean drum is one of my favorite instruments for working with young children because it is an instant attention-grabber.  The visual interest created by the beads is very engaging and it's easy for the little ones to change the sound of the drum. It also works well with familiar songs, such as "Row Your Boat," "My Bonnie," and novel tunes, including "Slippery Fish."
Rose Fienman, MT-BC
Los Angeles, California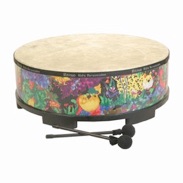 Kids Gathering Drum
The Remo Kids Gathering Drum is one of my favorite instruments to use with young children. It is wonderful for teaching rhythms, fine motor control, turn taking, building listening skills and storytelling. Children love to sit around the drum and make music together. Its colorful rain forest motif stimulates and engages their imaginations. It has no sharp edges, is available in 16", 18" or 22" diameter, 8"high, is easy to transport and the sound quality is excellent.
Ruthlee Figlure Adler, MT-BC
Bethesda, Maryland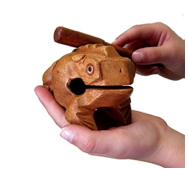 Croaking Frog
This instrument brings a fun element to any storytelling or music-making intervention. The timbre is very lifelike and sounds like a frog is hopping around in the room! Croaking frogs come in many colors, which provides opportunities for choice-making.
Megan Campbell, MTS
Louisville KY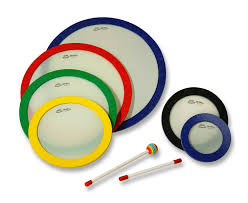 Sound Shapes
I love using Sound Shapes for when I am working with a group of young children or simply need something easily transportable. They look like drum heads and come in different sizes, shapes and colors. For not being actual "drums" they have great sound quality!
Emma Powers, MTI
Louisville, KY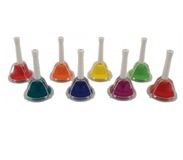 Diatonic 8-note Combined Handbells/Deskbells Set
This set of handbells can be used for a wide variety of goals and for many populations/abilities due to the versatile nature of the instrument. Each bell can be picked up and played as a handbell or, for many clients who lack the grasping strength necessary for this motion, the bells can be pushed from the top with minimal effort and used as deskbells. Both ways project a clear tone and allow the client to work on coordination skills, finger isolation, and fine motor skills. Additionally, pre-academic skills can also be addressed with this instrument set as each note provides an opportunity to practice letter, number, and color identification.
Rachel See, MA, MT-BC, Austin, Texas

Kazoos
I have used kazoos at my toddler and preschool site, and the children love them. It provides a great opportunity for them to follow simple instructions, use impulse control, practice breathing, and be creative/silly. This specific brand of kazoo is perfect for clinical work because the metal is durable and easy to sanitize. They are also fairly inexpensive. Let your imagination run wild with the possibilities for this fun instrument. Enjoy!
Alexis Bron, MTI
Portland, Oregon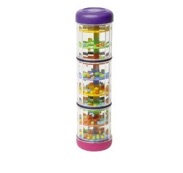 Rain Sticks
Rainsticks can be exciting instruments to use with children. They are one of my favorite instruments because of the variety of sizes and colors in which they are made. Rain may be soothing for some as a multi-sensory experience or an area to explore with fears related to storms. Enjoy the rain!
Gretchen Chardos Benner, LSW, MT-BC
Fort Mill, South Carolina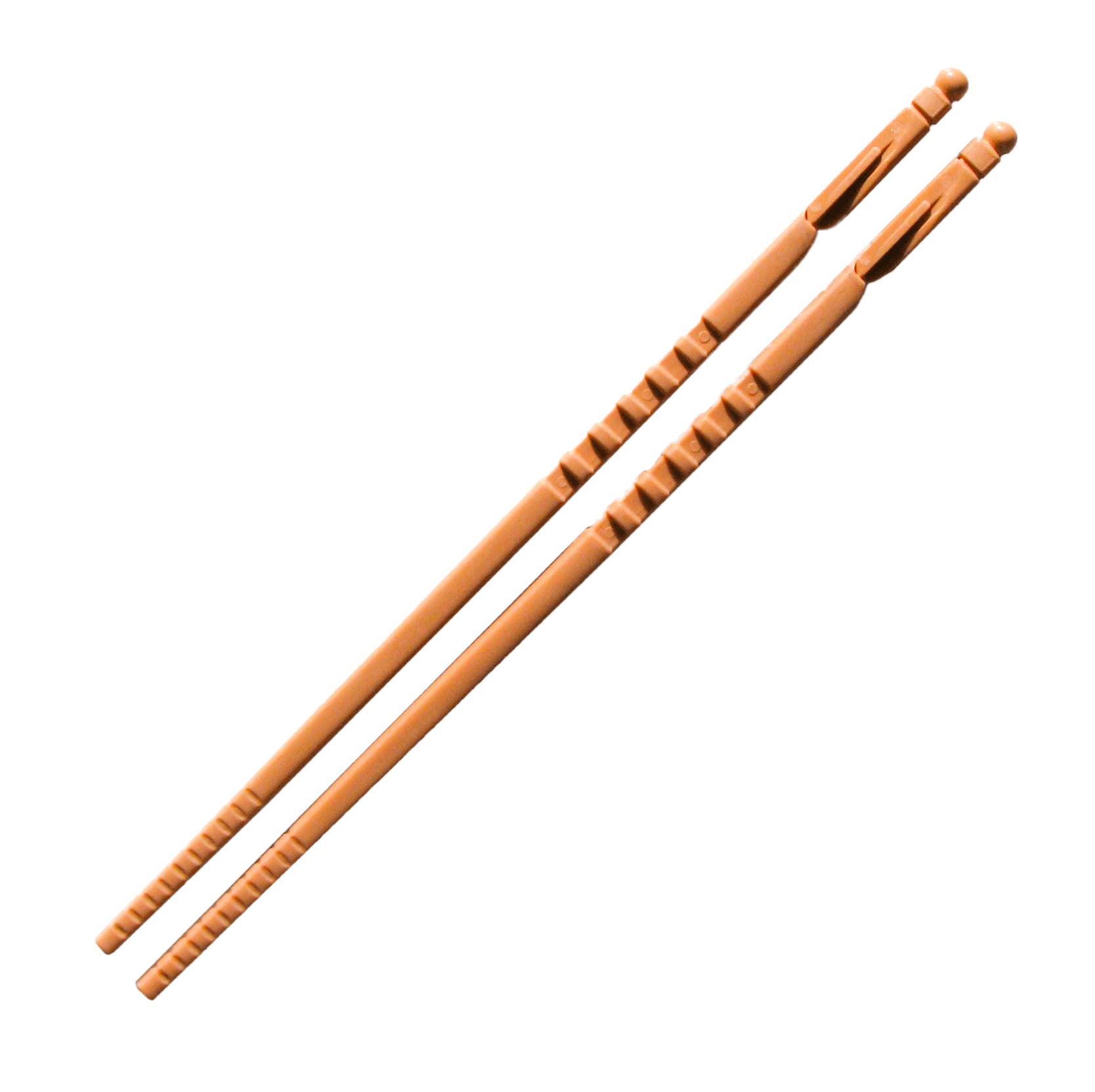 Chopsticks tap together to make a clicking sound. This clicking sound combines with the deeper boom of tapping on the blown-up balloon to create a variety of reinforcing sounds! It is a fun and frugal way to utilize various motivators and stimuli while working on impulse control and gross motor movements.
Kelly Morgan, MTS
Louisville, KY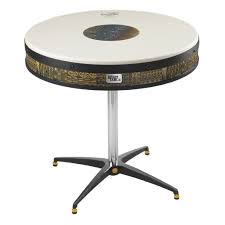 Drum Table
One of the most unique instruments I have enjoyed using with young children is the NSL Drum Table. The drumhead is a part of NSL (Not So Loud) technology and allows anyone who struggles with sensory overstimulation to play hard and not worry about the reverberation!
Katie Cox, MT-BC
Spartanburg, SC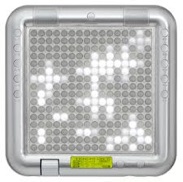 Tenori-on
The Tenori-on has 256 different sounds. It is easy to change tempo of the rhythm while playing and plays repeating melodic patterns and flashes light with sound. The Tenori-on can address therapeutic goals such as building self-esteem, increasing focus and attention, providing sensory stimulation, and providing opportunities for social interaction. For young children in a group, each child can pass the instrument to another child and add one note on the frame to create a unique melody.
Amy Clements-Cortes, Ph.D., MTA, MT-BC
Woodbridge, Ontario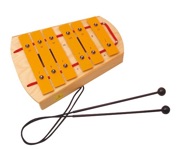 EasyCussion
My favorite instrument for young children is the Easycussion Alto Glockenspiel (AG500) for its soothing crystal clear pentatonic scale that immediately captures children's attention. It includes two attached mallets that easily lend themselves to shared playing and interaction.
Marcia Humpal, M.Ed., MT-BC
Olmsted Falls, Ohio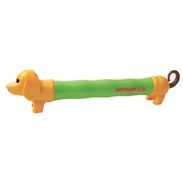 Puppy Slide Whistle
I love to use the puppy slide whistle from West Music for a variety of things including play with scarves, breath control  and impulse control.
Jaley Montgomery, MT-BC
Cape Girardeau, Missouri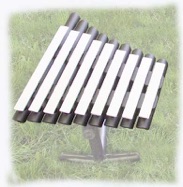 D Minor Wing
I love my d minor pentatonic Freenotes wing. There are no wrong notes to play, and the beautiful sound often catches children's attention and helps them self-regulate.
Dana Bolton, MEd, MMT, MT-BC
Murfreesboro, Tennessee