The imagine "Children's Corner" started in 2014. Our intent is to give children a voice by asking them for their explanation, perspectives, and everyday wisdom about music therapy in writings, drawings, and recordings. Should you be interested in contributing to the the "Children's Corner," please contact the editorial team of imagine.

---
My Grandfriends and Me
by Michael Detmer and Petra Kern
Children participating in Intergenerational Music Therapy Program at the University of Louisville's Early Learning Campus met with their grandfriends twice a week. In this interview, Michael Detmer follows up with the children and asks them questions such as "What do you think about the music program with your grandfriends?," "Did you enjoy playing music with the adults?," "Do you have any other friends that are that old?," "Was it fun to have grandfriends?", and "What was your favorite part of the program?." Listen to the adorable responses from four children.
For more details on this Intergenerational Music Therapy Program read: Detmer, M. R., & Kern, P. (2017). Young and Old Together: Implementing an Intergenerational Music Therapy Program. imagine 8(1), 60-65.
Finding Friendship Through Music
by Laurel Rosen
Children participating in the "Children's Corner" 2016 are part of a peer to peer music therapy group in Monroe, Michigan that meets once a week. The children come together to build friendships, practice independence, and build pre-academic skills needed for a successful transition to kindergarten. Both classrooms value the collaboration and are meeting daily to expand what is practiced within the music setting. Students in the video complete a variety of experiences such as playing shakers, drums, and interacting together to act a musical drama.
---
Music Gives Us A Voice
by Meryl Brown
Jake participated in Early Intervention Music Therapy services in Normal, IL, where he engaged in weekly individual sessions targeting social, fine motor, and speech goals. In this short video, we see Jake using a variety of ways to communicate including his voice and a communication device (iPad) as he tells us about music therapy.  Jake has always shared his smile during music therapy and now he can tell us why!
---
I Like to Sing Songs
by Mary Brieschke
Isabelle is a four-year-old girl whose baby sister, Morgan, was in the hospital for an extended period of time. Because Morgan was expected to be in the hospital for multiple weeks, some of her music therapy sessions were focused on developmental goals. When Isabelle was present, she loved participating by singing songs and playing instruments with her sister. One of Isabelle's favorite things to do was create her own songs for her sister in lullaby styles, while I accompanied her on guitar. Including Isabelle in sessions promoted sibling and family bonding, as well as helped Morgan grow! By the time she was ready for discharge, Morgan was visually and aurally tracking, grasping instruments, kicking her legs, smiling, cooing, and vocalizing during music, especially when her family was involved. I got a chance to ask Isabelle about her experience in music therapy!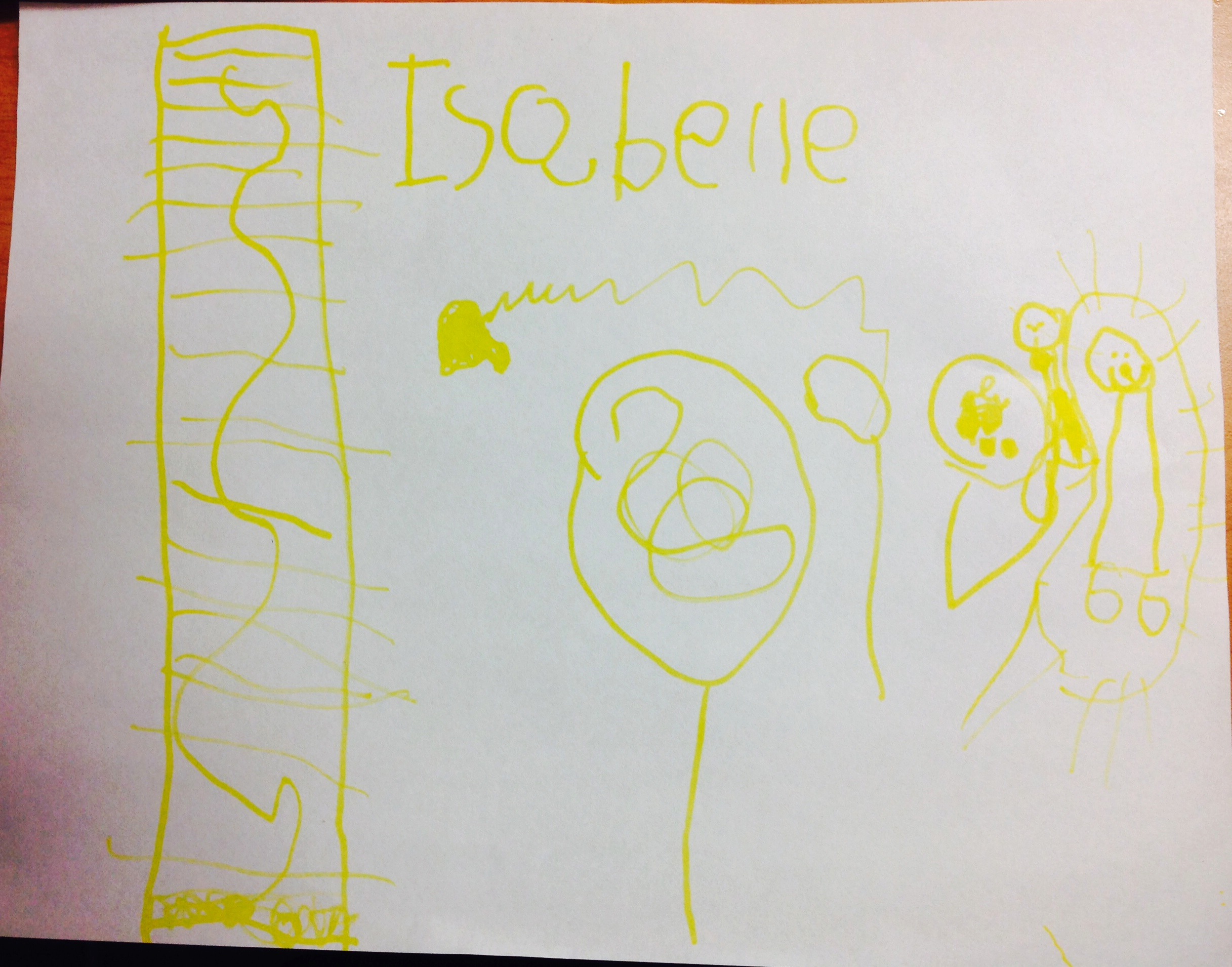 ---
Music Lines Have 5
by Adrienne Steiner
Hi! My name is Ryan. I love music and both my parents play music a lot. My favorite instrument right now is the bells (colored desk bells). Sometimes my brother comes in to music with me. I am really good at singing the "Time to Go" song. My picture has five large spots because music lines have 5 (meaning the staff). You can hear me singing my favorite song, "It's Time to Go" with signs (from the Brightstart curriculum) with my brother and Ms. Adrienne.
---
We R-O-C-K at the Rock and Roll Hall of Fame
by Ed Gallagher and Marcia Humpal
Karter and Shaniyah were two of the many young children who attended Toddler Rock sessions at Cleveland's Rock and Roll Hall of Fame. Each week during the school calendar year, preschools from across the greater Cleveland area come to the Rock Hall not only to learn about famous musicians, but also to work with music therapists using music to enhance pre-literacy skills. Every two weeks, a new letter is introduced. Children learn songs that target the specified letters, actively utilize music as books are read to them, search the Rock Hall for musicians who names began with that letter, and play, move and listen to various genres of music. Classroom teachers discover how to use music to enhance literacy experiences, and use these skills in their daily teaching. During "O" week, one class shared a song they'd been working on at their home site. Listen to all the outstanding and outrageous O words they have to offer to imagine readers:
---
Stand Up and Wiggle
by Kirsten Meyer
These children receive music therapy in an inclusion preschool classroom at an urban public school. Many of the children in the class come from Spanish-speaking households, and the school is in a relatively low income area. Music therapy goals are related to age-appropriate social interaction as well as developmentally appropriate academic progress. The children especially love interventions related to impulse control and following directions, which can be seen in their descriptions and pictures of music therapy; many of them referenced egg shakers, which are used in songs practicing quick changes such as "freeze!" and several referenced the song "Stand Up and Wiggle," which involves quickly progressing from standing up to wiggling to sitting back down.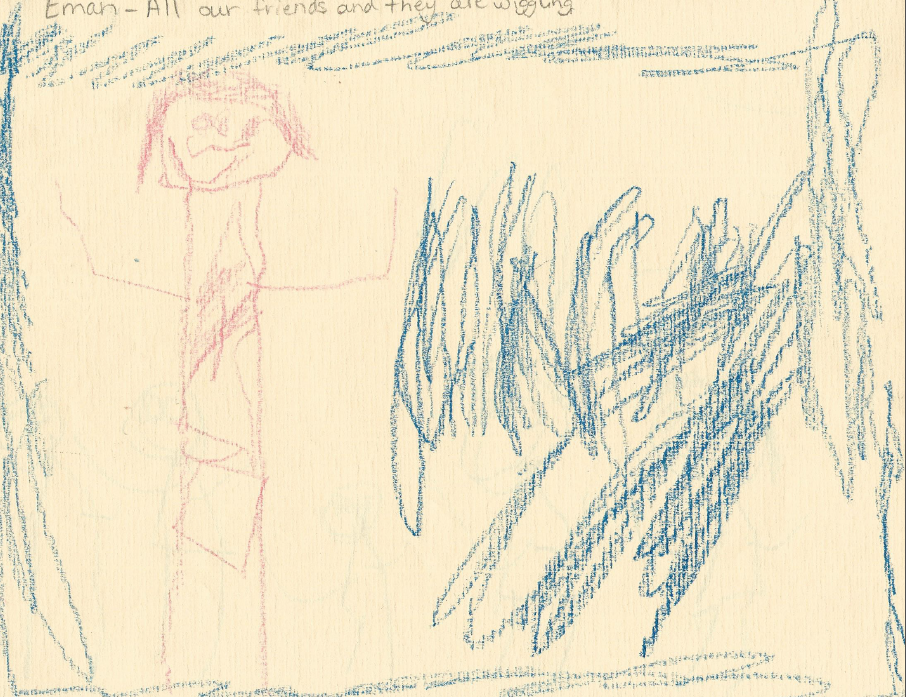 "Eman, what is music therapy?" "My name is Eman and my favorite song is "Wiggle, wiggle, wiggle."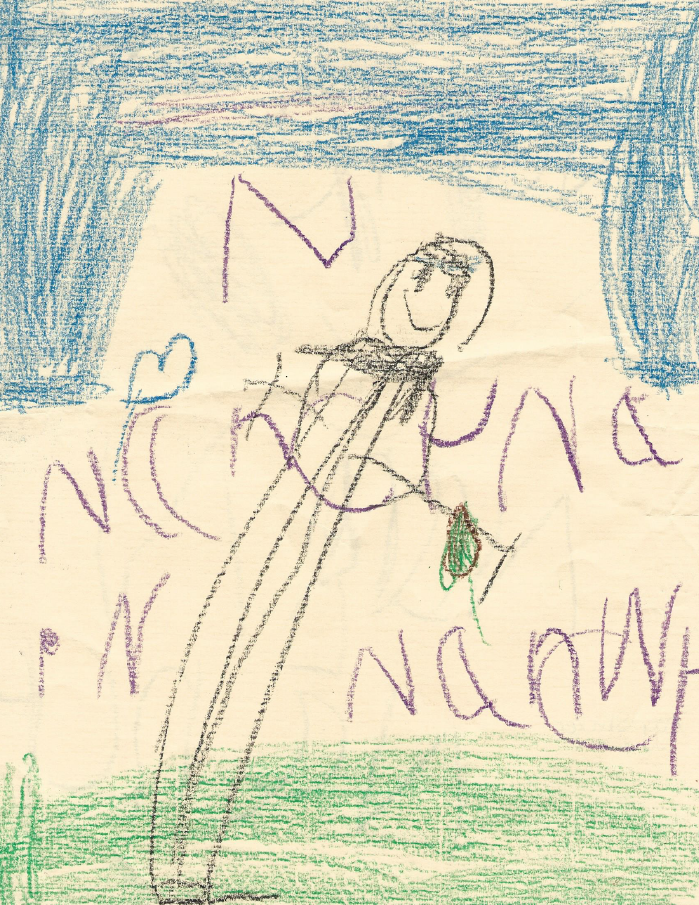 "So Nancy, what do you think music therapy is?" "My name is Nancy and I like the wiggle song. Wiggle, wiggle, wiggle."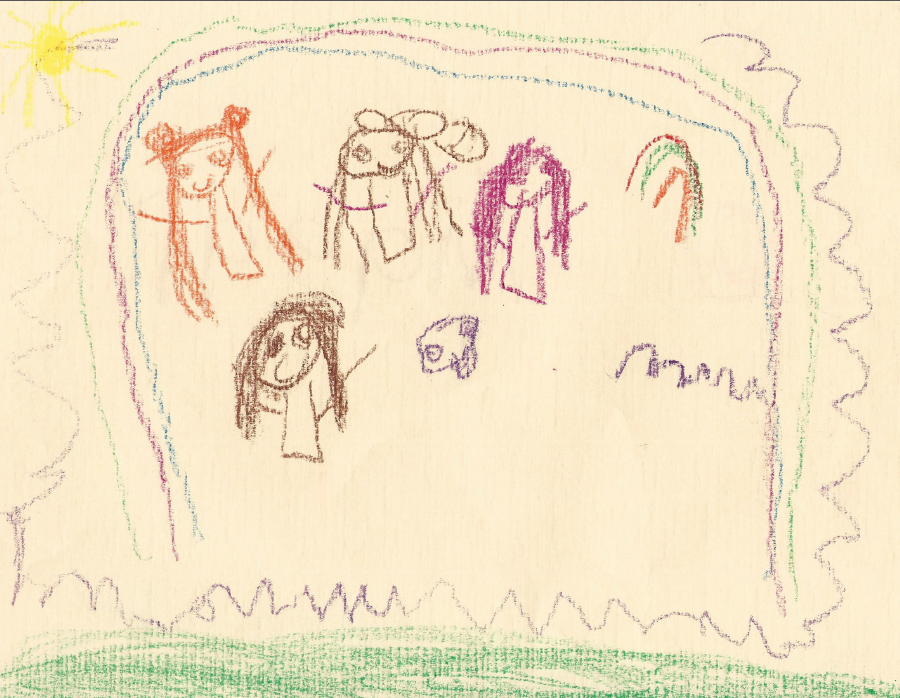 "And you Magaly, what is music therapy? "This is Magaly and my favorite song is wiggle, wiggle, wiggle, back down."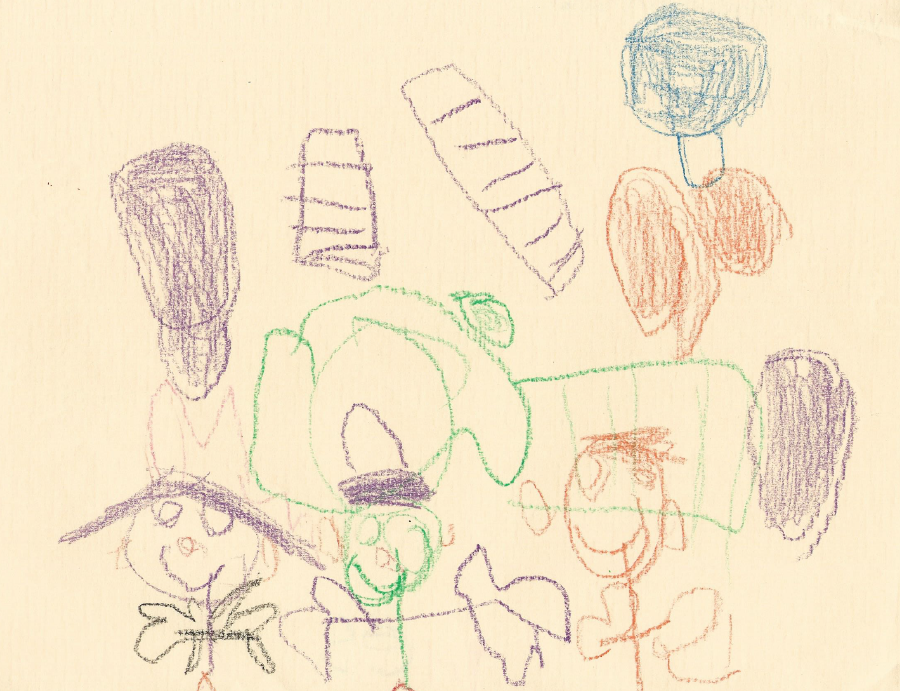 "Mario, what is your understanding of music therapy? "My name is Mario and I like the egg shakers."